Saturday: 8 and 9
Sunday: 8 and 9
Monday: Closed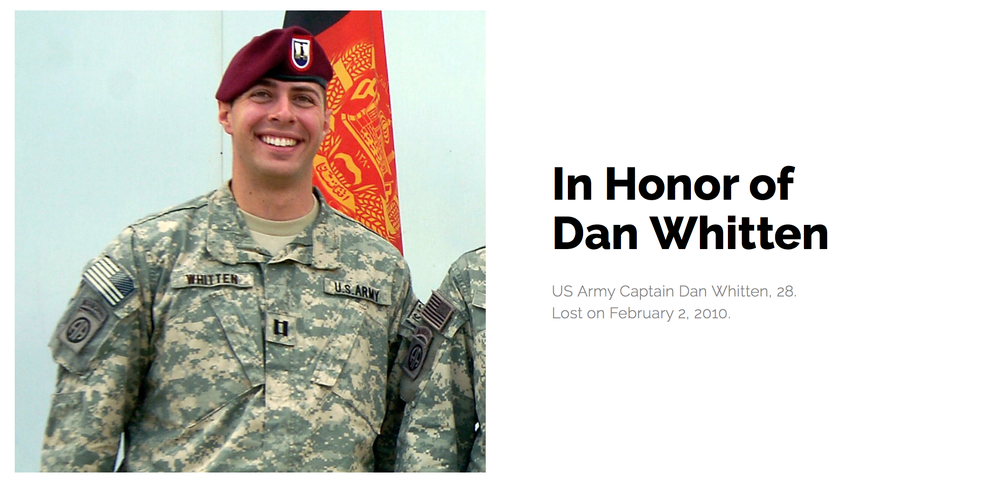 "Blood is freedom's stain."
-Bruce Dickinson
Army Capt. Daniel Whitten died February 2, 2010 serving during Operation Enduring Freedom. Whitten, 28, of Grimes, IA; assigned to the 1st Battalion, 508th Parachute Infantry Regiment, 4th Brigade Combat Team, 82nd Airborne Division, Fort Bragg, NC; died of wounds sustained when enemy forces attacked his vehicle with an improvised explosive device Feb. 2 near Forward Operating Base Sweeney, Afghanistan. Also killed was Pfc. Zachary G. Lovejoy.
Whitten graduated from West Point in 2004. He is survived by his wife, Starr; his mother, Jill; father, Dan; and sister, US Army Capt. Sarah Whitten.
"Whitten"
5 Rounds For Time:
22 Kettle Bell Swings (70/53)
22 Box Jumps (24 / 20 inch)
Run 400 Meters
22 Burpees
22 Wall Balls Shots (20 / 14 lbs)
We can scale this by partnering and splitting reps, by reducing weight, or by making this a 3 round workout.
**Classes will be held at 8 and 9. Come in to honor this fallen hero. Please pre register tonight and check in tomorrow morning. Thanks!